Herman "Hy" Schecter
Herman Schecter, later known as Hy, was born in 1922. Through a life of hard work, a dynamic personality and the love and support of his wife, Doris, Herman created a company that would continue to grow and prosper.
Herman went to Tilden High School where he was editor of the Yearbook and voted "Boy Politician". All through high school Herman was up before 5 a.m. seven days a week to complete his grocery route. He earned $4.00 per week. Herman later enrolled in City College of New York.
In 1942, he was called into service. This did not stop the pattern of learning. He underwent basic training in Texas where he represented his company in the golden gloves as a welterweight. He won his first three bouts and was happy to be out of boxing when he lost his fourth. He was assigned to the Medical Corps where he studied X-ray technology. The Army Specialized Training Program allowed Herman to attend the University of Missouri, School of Engineering, where he completed three full semesters. As Administrative Assistant to the Commanding Officer, he rose to the rank of Technical Sergeant. His unit served in France and Germany for two years. At the end of the war, he studied at Biarritz American University and now speaks four languages fluently.
Herman wanted to study Dentistry. He needed to earn the money to pay for his studies, so he went back to seek employment with a textile converting company that had employed him before the war. At this firm he ran into Walter Sommers, who had worked with Herman before the war and had just established his own plastics company. Walter Sommers subsequently invited young Herman to come to work for him, an offer which he accepted. They converted and distributed a line of imitation leather and plastics. Herman's salary was $30 a week. Schecter and Sommers worked together in their small office doing everything - shipping, receiving, billing and bookkeeping.
It did not seem a fortuitous move at the time. The entire line had had a bad season in 1947. Herman was forced to work three days a week in a poultry shop while holding his job at Sommers.
On November 16, 1947, however, things rapidly began to improve. Doris Osman and Herman Schecter wed. With Doris by his side, Herman devoted his energy to improving Sommers' products. Business improved at Sommers the following year and Herman was able to maintain his employment.
In June, 1948, despite the progress of his company, Mr. Sommers was anxious to raise his family outside of New York. Mr. Sommers was offered an excellent opportunity in a big midwestern department store and decided to go out of the plastics business. Walter led an exceptional life thereafter and was recognized for his humanitarian and civil rights work.
Walter Sommers made his decision to sell out. Herman Schecter saw an opportunity to become the owner of the business for a relatively small sum - $1,006.74. He invested his modest savings toward the purchase of the Sommers Company. With Doris handling the office responsibilities, Herman utilized his dynamic personality to sell and develop new products.
With the introduction and widespread use of vinyl as a substitute for leather in many manufactured items, the potential growth for this material was just coming to light. Industries such as Handbags, Belts, Small Leathergoods, Bookbinding were eager to see this new vinyl fabric.
With a born knack for salesmanship, "Hy" Schecter began to sell his products with astounding success. He was able to convince countless manufacturers of the advantages both in quality and economy in using plastics. He was so successful in marketing these products that several large mills made him their exclusive distributor.
In 1953, Sommers was the first company in their field to introduce a highly polished black imitation patent leather in continuous rolls, which was formerly available only in small sheets. This item registered and trade-marked as Roller Patent took the industry by storm and became a highly popular product.
In 1959, a new concept for plastic was developed. It was an expanded vinyl which United States Rubber (later, Uniroyal) called Naugahyde. Sommers called this "sponge leather," Marshmallow. This closely simulated the touch and feel of soft, genuine leather. It was used to manufacture better quality, less-expensive-than-leather, ladies handbags, outerwear, belts and billfolds. The humane aspect of using synthetic, "vegan" leather to save animals was not a consideration back then. To this day, Roller Patent and Marshmallow are still in demand.
In January 1951, Hy and Doris Schecter introduced yet another new product to the world: Their first-born son, Fred. This successful introduction was followed eighteen months later by the birth of their second son, Edward Meyer. On April 10, 1954, the Schecter family moved from Brooklyn to their new home in the su
burbs of Long Island. A few years later, in 1957, they were blessed with the birth of their third son, Jay. Ambitious and persevering, Hy and Doris completed the picture in 1963. Stuart was born. Fred and Edward currently own and operate Sommers Plastics. Fred's son, Sam, who graduated with a degree in business from the University of Vermont, has begun the third generation at Sommers Plastics.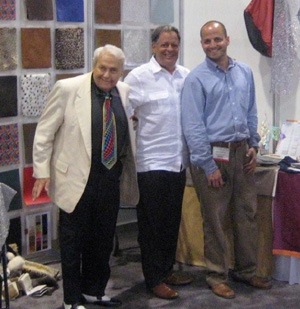 Hy and Doris's other sons, Jay and Stuart, are not in the plastic business. Jay is a neurologist in Rome, Georgia. Stuart is a cardiologist at Mt. Sinai Hospital in NYC.
Throughout his illustrious career, Herman Schecter vividly demonstrated his devotion to worthy causes. He has been honored by the State of Israel, United Jewish Appeal, Cancer Care, the Deborah Hospital, Brandeis School, Cerebral Palsy and Temple Hillel of Valley Stream. In 2000, Hy Schecter worked night and day at The Woodlands Country Club raised record-breaking money for The National Parkinson Foundation.
Unstoppable, not resting on his laurels, Hy Schecter took up golf at age 50. In his first year, he was awarded "Most Improved Golfer" by Golf Digest Magazine. Years later, his collection of trophies and awards outgrew his house and had to be warehoused.. In September, 1991, he won the Seniors Tournament at The Old Westbury Golf & Country Club. In 2012, he savored his time with his wife, Doris, getting in a few games of Rummy Q at the Vi, formerly the Hyatt Residence, a continuing care community in Aventura, FL.
Doris and Hy passed away in 2013 leaving a loving family and prosperous business.
July 21, 2012- The Schecter boys attending the wedding of Sam Schecter and Nicole Tarica
From left: Fred, Ross, Alex, Stuart, Michael, Aaron, David, Jay and Edward Schecter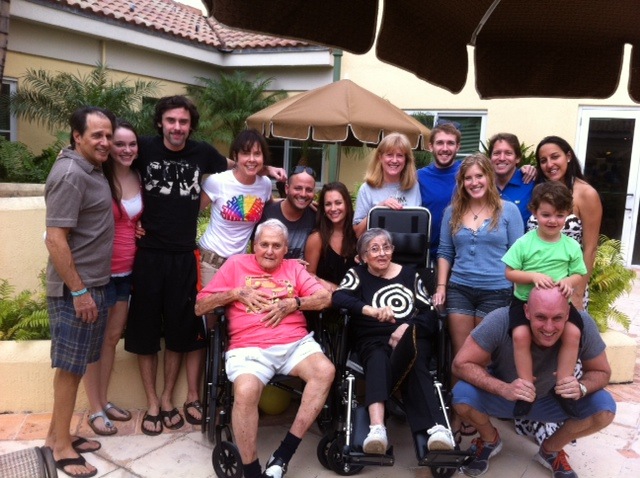 2011- Hy and Doris surrounded by loving family
From left: Edward, Julie, Aaron, Liz, Sam, Nicole, Gina, Michael, Stephaine, Jay, Allison, Oliver and Brian